The LUX Lighting Collection
The LUX lighting collection
Lumishore's CRGBW fully color-tuneable LUX collection allows you to create and control the perfect atmosphere onboard - all at your fingertips.
This collection of CRGBW Downlights, Neon Flex, Strip Lights, Courtesy Lights, Flood Lights and Speaker Light Drivers are all dimmable as standard, allowing you to reduce their brightness to match your every mood.

LUX is not just another lighting collection, it's a smart connected lighting system. And with finishes and materials of the highest quality - nothing else feels - or looks like LUX.
Industry-first
CRGBW illumination
Combining Cold White and Warm White, as well as RGB (red, green, blue) in each and every light, together with Lumishore's Lighting Control Systems, allows you to choose from a complete color palette to suit your mood and style.
Create beautiful whites, premium pastel shades and vibrant hues for a more ambient on-water experience.
Why CRGBW?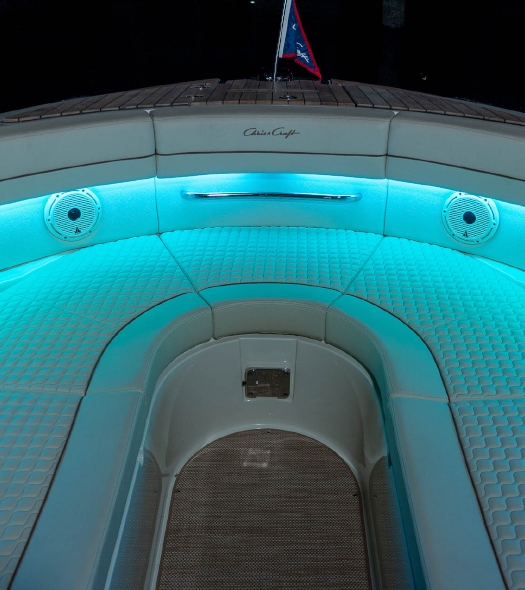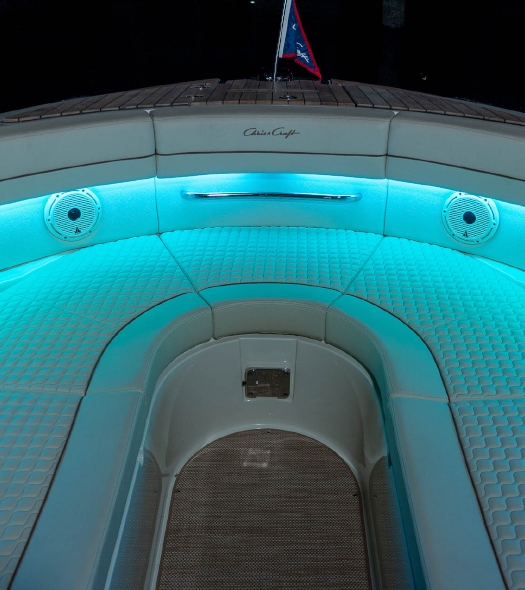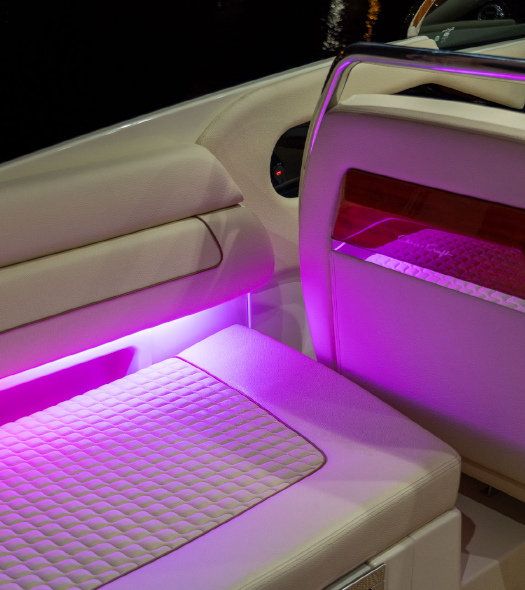 Controlling the color temperature of your lights with tunable whites allows you to keep the lighting onboard aligned with circadian rhythms. From cool white - to stimulate daylight conditions, to a warmer white that encourages relaxation.

Having CRGBW in the same light unit gives a higher Color Rendering Index, meaning that the colors are not distorted and accurately show the colors of objects it illuminates.
LUX Downlights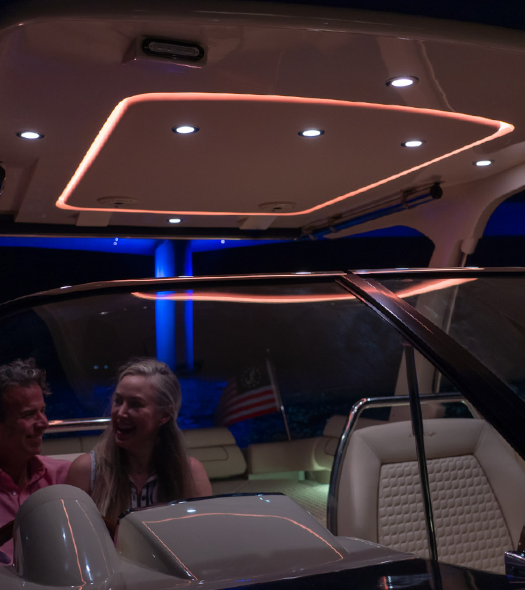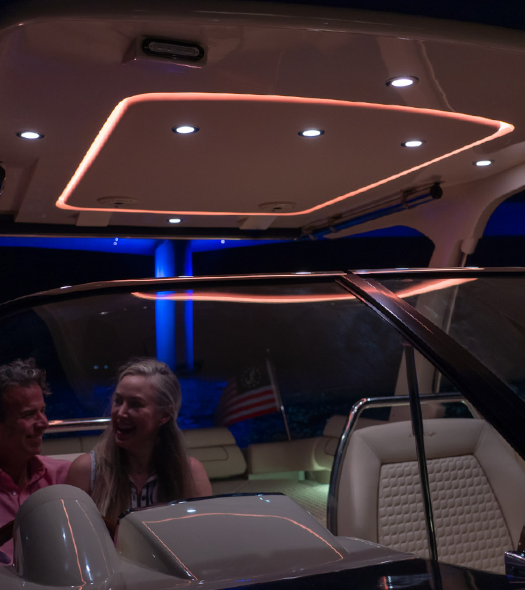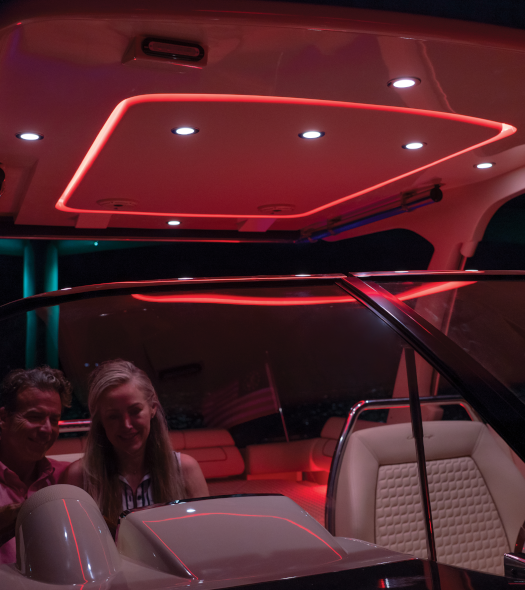 Lumishore's LUX Downlights are the perfect combination of quality, performance and style, making them ideal for interior and/or exterior overhead lighting and designed for all cabin ceiling heights.
The LUX Lighting Collection offers the first marine-grade CRGBW Downlight with an anti-glare option within the same low-profile unit, ideal for lower ceilings without the space for recessed bodies.
LUX Downlights are dimmable as standard and finished in stainless steel white or black bezels with hard-anodized aluminium bodies.
Like what you see?
Contact your local dealer to discover the full Lumishore collection.

LUX Courtesy Lights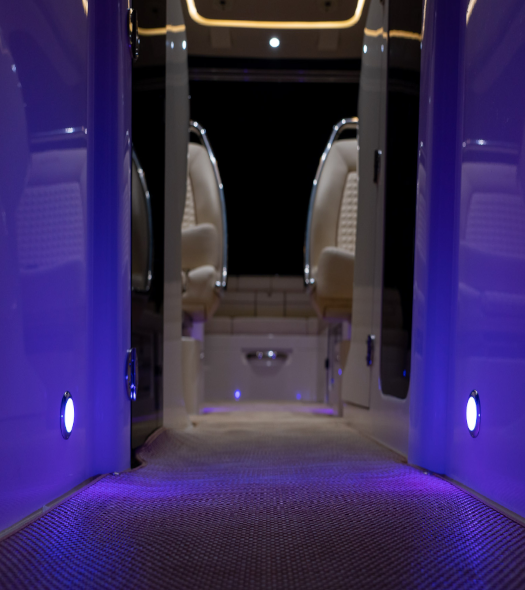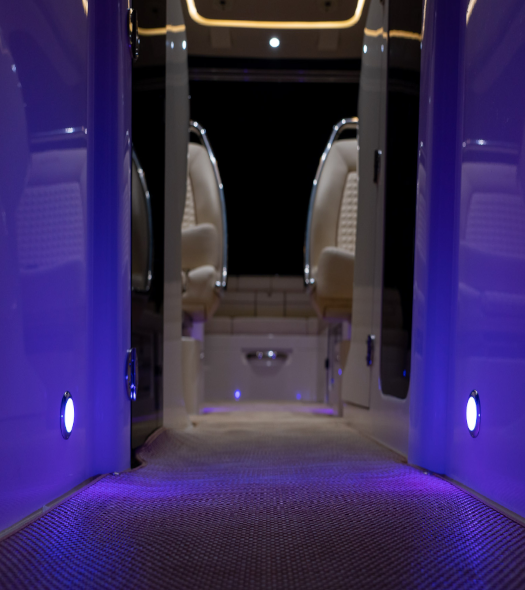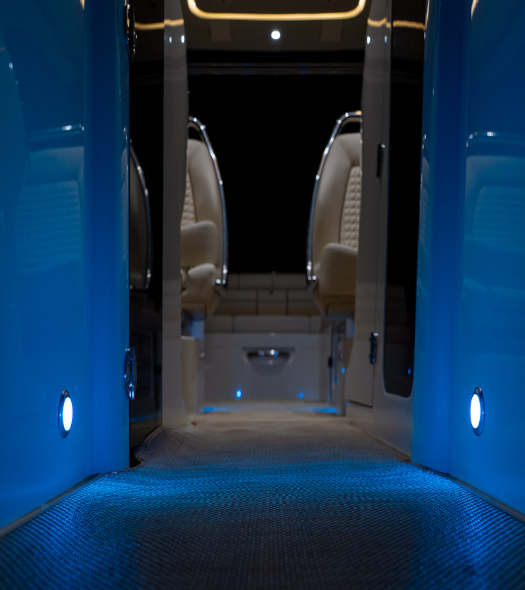 Lumishore's LUX Courtesy Lights are perfect for lighting external walkways, stairs and architectural elements of a boat, while at the same time creating a warm and comfortable atmosphere. Dim to the desired brightness for the perfect ambiance!
Suitable for interior and exterior installation, LUX Courtesy Lights will not only enhance any space, but they will also add visibility and safety onboard.
LUX Strip Lights
Lumishore's LUX Strip Lights are an excellent solution to your mood lighting needs, while providing incredible flexibility. Create your own ambience with a subtle blend of colors – perfect for indirect mood lighting in relaxing areas or to accentuate and highlight architectural features on the boat for a strong visual impact. Dim to the desired intensity, for the perfect ambiance!
LUX Neon Flex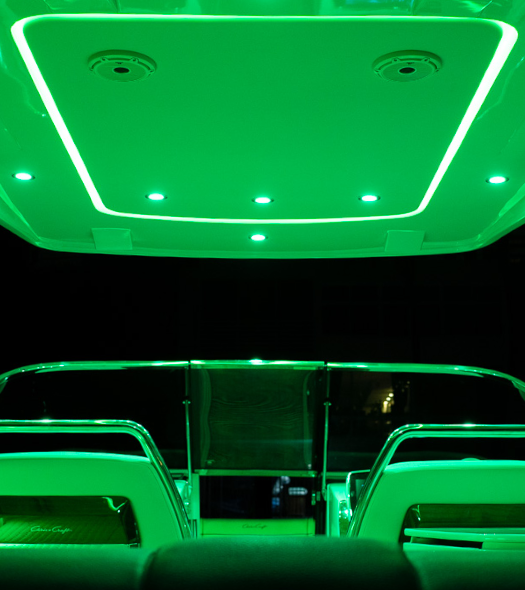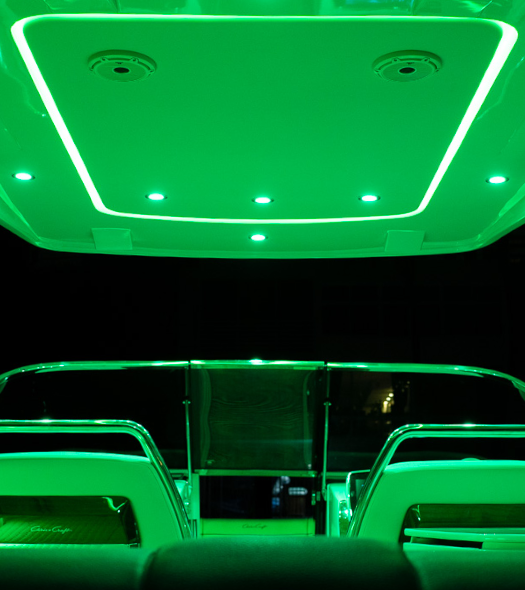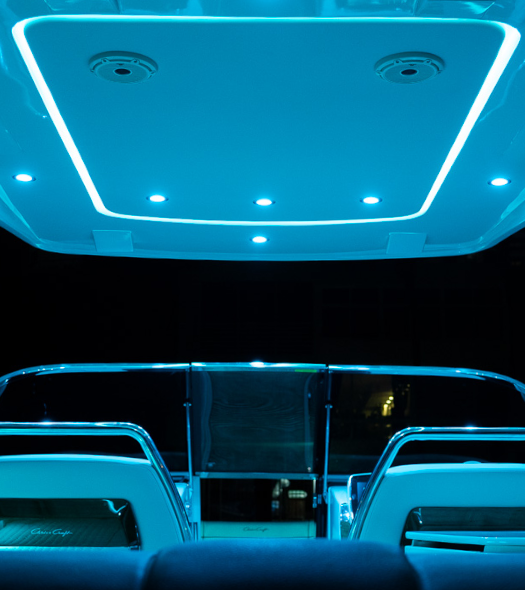 Where standard strip lights leave visible LED dots in direct line of sight or reflecting on glossy surfaces, the cleverly designed diffusion layer of Lumishore's LUX Superbright Neon Flex Strip Light blends the CRGBW LED light to create a beautiful, homogenous, dot-free experience.
Its bend-flex allows it to adjust around curved surfaces making it ideal for installing under gunwales, cabin headliners or T-tops. LUX Neon Flex Strip Lights are dimmable as standard.
LUX Livewell Lights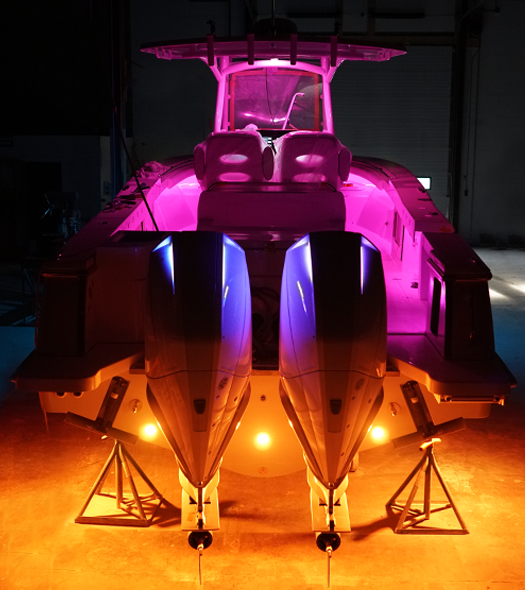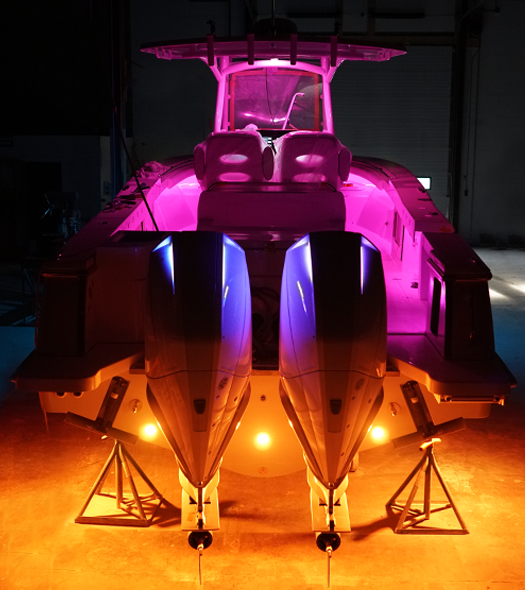 Built for the harsh environment of livewells, fish boxes and splash wells. Suitable for any wet place onboard, or submerged underwater, where an internal screw thread/ locking nut is desirable. Lumishore's LUX Livewell Lights can be installed with or without stainless the steel bezel and are dimmable as standard.
LUX Flood Lights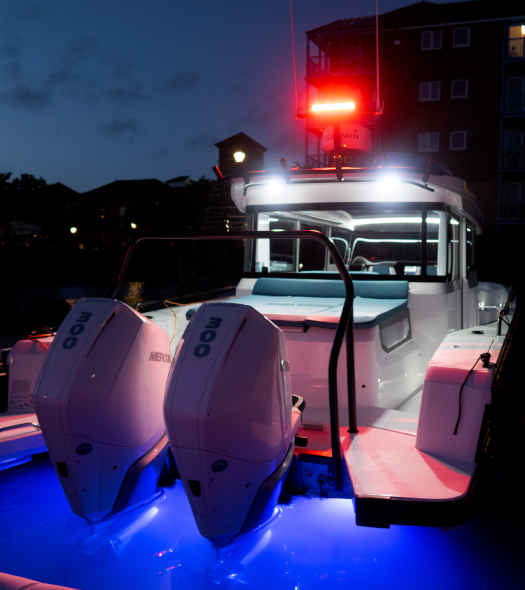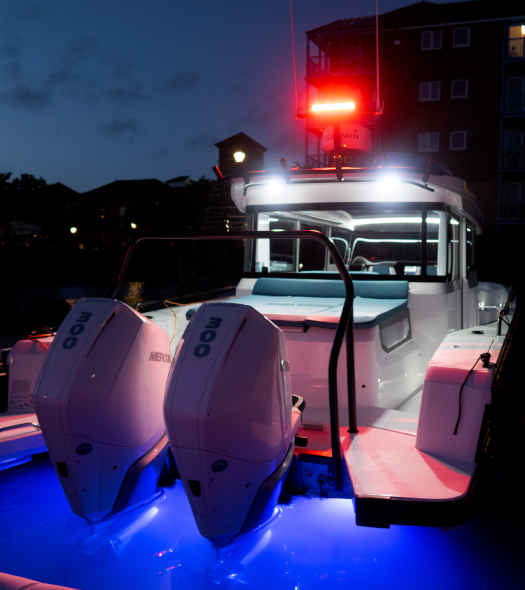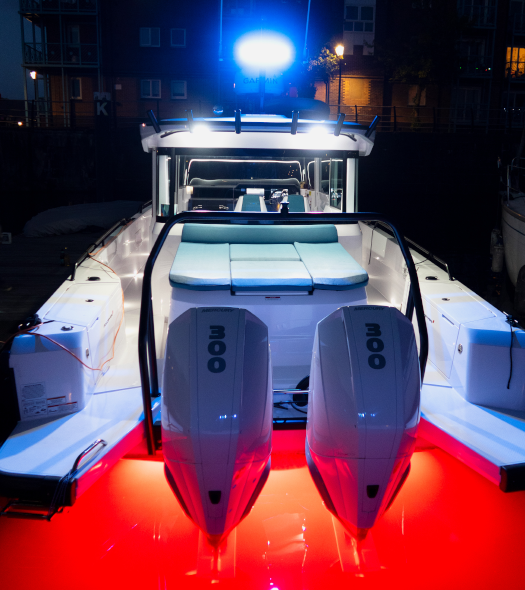 Designed to offer a high-intensity light source onboard, wherever you need it. Perfect for deck, cockpit lighting, or for general security purposes. With ultra-wide beam angles for full coverage and custom diffusion optics, creating consistent color and even light beam spread.

Lumishore's new low-profile articulating LUX Flood Lights are ideal for exterior mounting on cabin tops, t-tops, arches, transoms and radar pedestals. Dimmable as standard.

Controllable via a momentary switch, with the option to upgrade to full integration with your compatible MFD and/or Lumishore STV2204-i Display.
LUX Speaker Light Driver
Double the fun with Lumishore's LUX Speaker Light Driver! Plug in your quality audio system via the Lumi-Link Command Center's mini jack and enjoy Lumishore's unique multi-media sound-to-light experience.
By analysing music signals and splitting them into 3 frequency bands, the LUX Speaker Light Driver allows you to select colors for each frequency - a dynamic lighting experience, from one song to the next.
Wow your guests by pulsing your Lumishore lights to the frequency of the music in any color, color cycle, or oscillating pattern.
Controllable via a momentary switch, with the option to upgrade to full integration with your compatible MFD and/or Lumishore STV2204-i Display.
Spotlights
Single Color Spotlights are also compatible with the LUX Lighting System, generating powerful crisp, white (5000 K) light to illuminate the hardest to see places. Available in 20", 30", 40" and 50" models, allowing for versatile placement onboard.
Designed to withstand extreme marine environments, completely water tight (IP68 compliant) and constructed with marine-grade powder coated aluminium. These sleek, low profile spotlights enhance your boat's fit-out, even when not in use. Suitable for T-Tops, helm roofs, fishing towers and bow platforms.
Like what you see?
Contact your local dealer to discover the full Lumishore collection.
We're Certified
Lumishore is the market value leader in marine LED lighting, for boats of all sizes, from the smallest RIBS and tenders, to the world's largest Superyachts.