SUPRA
SMX53
Surface Mount
Key Features
Dual Color
6,100
Fixture Lumens
90°
Beam Angle
Description
'2-lights-in-1' (blue and white) in a single high-powered bronze surface mount fixture without sacrificing brightness; both colors run at full…
Features
Lumi-Link
Compatible
Dual Color
6,100
Fixture Lumens
90°
Beam Angle
Warranty
Product Description
'2-lights-in-1' (blue and white) in a single high-powered bronze surface mount fixture without sacrificing brightness; both colors run at full power!
Lumishore's SMX53 delivers 6,100 fixture lumens in a wide 90° beam of light. .
Control the SMX53 with a standard on/off switch or the SUPRA i-Connect Hub & Switch for additional features. For direct control from your compatible MFD and/or optional Lumishore Display, add the Lumi-Link SUPRA Bridge Module.
Suitable for stepped hulls, transoms, and hull sides of nearly any type of boat.
Specifications
AVAILABLE LED COLORS:

DUAL COLOR (BLUE & WHITE)

LUMENS:

13,725

VERIFIED FIXTURE LUMENS (WHITE):

6,100

# OF HIGH POWER LEDS:

36

LED POWER - HICOB ARRAY:

YES

TYPICAL LED LIFE:

50,000+ HOURS

BEAM ANGLE (DEGREES):

90°

DRIVER:

MULTI-CHANNEL INTERNAL DRIVER

SUPPLY VOLTAGE:

12/24 V DC

MAX CURRENT DRAW:

5.3A / 2.6A

HOUSING TYPE:

MARINE GRADE BRONZE / GLASS LENS

USER CONTROL OPTIONS:

ON/OFF SWITCH OR I-CONNECT HUB & SWITCH OR MFD WITH LUMI-LINK SUPRA BRIDGE

LIGHTS SYNCHRONIZED:

Y

COLOR FADE CYCLE:

Y

FADE w/BRIGHTNESS ADJUST:

Y* (NOT WITH ON/OFF SWITCH)

FIXED STROBES:

Y

STROBE w/SPEED ADJUST:

Y* (NOT WITH ON/OFF SWITCH)

SYSTEM MEMORY:

Y (NOT WITH ON/OFF SWITCH)
Lumi-link
The smartest way to control your Lumishore lights! This award-winning and unrivalled system was designed for ease of installation with a single plug-&-play cable configuration. It is the marine industry's only plug-and-play module with pre-installed interfaces and lighting options straight out of the box.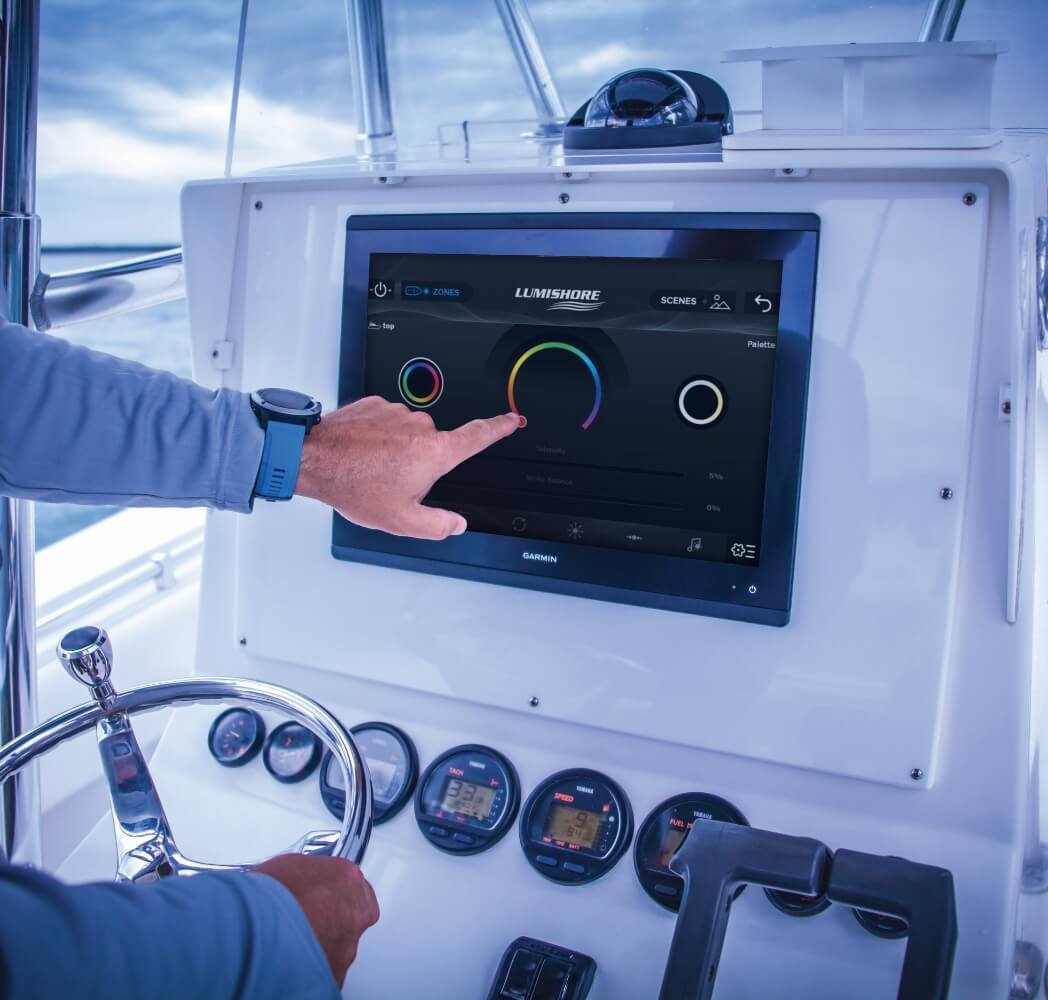 Downloads
The product specification sheet and installation manual can be downloaded below. If you require any further information please get in touch.
What It Comes With
One (1) SUPRA SMX53 Light with Built-in Driver
Controllers & Accessories
SMX i-Connect Hub Kit with one (1m) DMX cable included (60-0317)
Close