Control Systems
STV 2204-I Display
Key Features
Control
Lumi-Link Compatible
Warranty
Description
Lumishore's STV2204-I Display is an optional secondary display, which can be used in addition to, or instead of an MFD. This dedicated…
Features
Control
Lumi-Link Compatible
Warranty
Full Color CRGBW
Full Color
Dual Color
Product Description
Lumishore's STV2204-I Display is an optional secondary display, which can be used in addition to, or instead of an MFD.

This dedicated glass-bridge style, touch display and rotary dial is easy to manipulate when cruising, or with wet/salty hands.

Compatible with your Lux above water lights and Full Color Change (EOS) and Dual color (SUPRA) Series underwater lights, with the SUPRA Bridge Module (excl. SMX23).

Lumishore's STV 2204-I Display features built in Wi-Fi control.
Specifications
Screen Type:

Full Color 3.5" LCD Touchscreen

Supply Voltage Range:

10.5 - 31 V DC

Max Current Draw 12/24V:

0.3 A / 0.15 A

Surge Protection:

Yes (3000V)

Low Voltage Protection:

Low / High Voltage Cut Out

In Rush Current Protection:

Y

Power Line Noise Suppression:

Y

Load Dump Protection:

Y

Water Ingress Protection Rating:

IP68

Housing Type:

Glass Bridge Style Front with Polymer Molded Recessed Back

Hole Cut-Out for Controller:

83mm (3.27") x 83mm (3.27")

Installation:

Panel Mount - Bracket Provided
Lumi-link
The smartest way to control your Lumishore lights! This award-winning and unrivalled system was designed for ease of installation with a single plug-&-play cable configuration. It is the marine industry's only plug-and-play module with pre-installed interfaces and lighting options straight out of the box.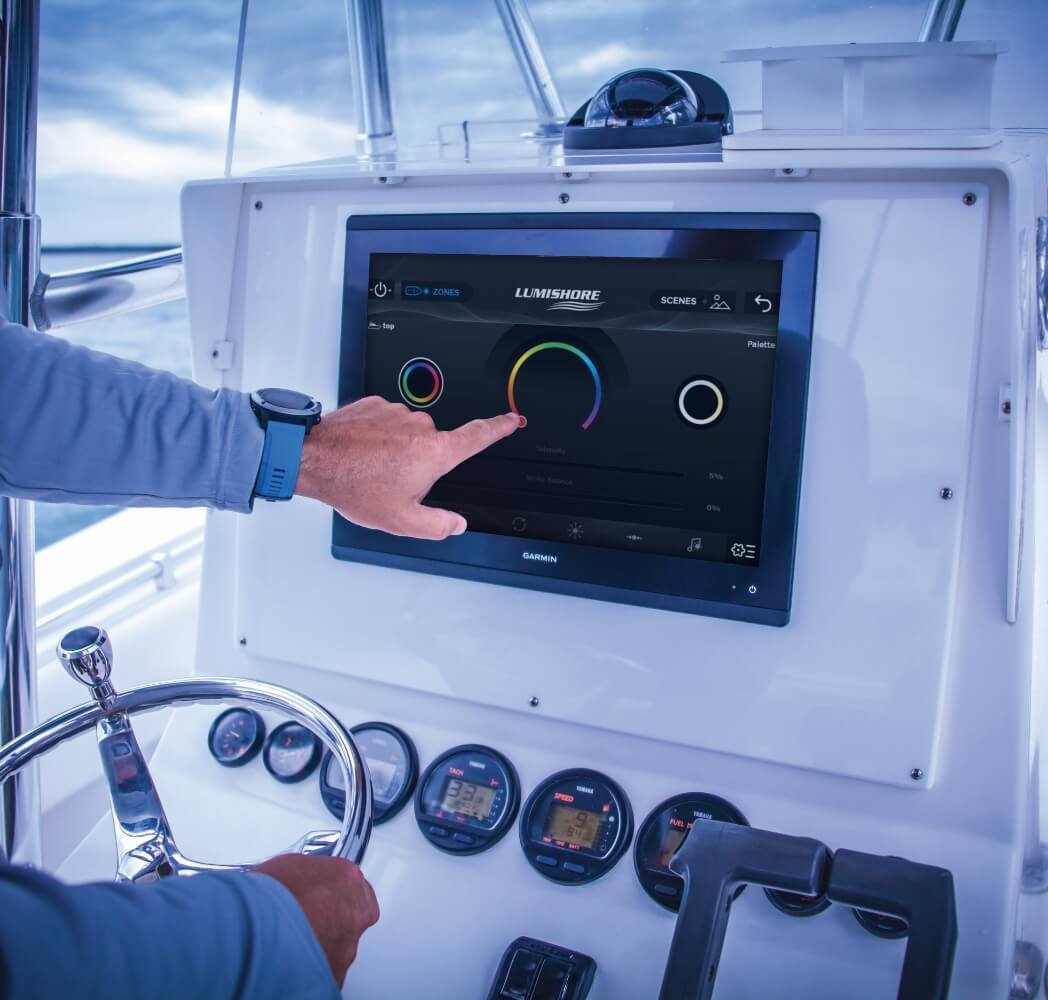 Downloads
The product specification sheet and installation manual can be downloaded below. If you require any further information please get in touch.
What It Comes With
One (1) STV2204-I Display
One (1) 10M CAT6 network cable
Controllers & Accessories
Conversion cables to compatible MFD's (plug and play connect):

Garmin (60-0372)
Simrad / B&G (60-0373)