EOS
TIX803
Interchangeable Thru-Hull
Key Features
Full Color
10,500
Fixture Lumens
110°
Beam Angle
Description
Lumishore's EOS full color change Thru-Hull's are the undisputed leader in high-performance full spectrum underwater lighting. The TIX803…
Features
Lumi-Link
Compatible
Full Color
10,500
Fixture Lumens
110°
Beam Angle
Optional
Warranty
Product Description
Lumishore's EOS full color change Thru-Hull's are the undisputed leader in high-performance full spectrum underwater lighting.
The TIX803 delivers a powerful 10,500 verified fixture lumens and an ultra-wide 110° beam angle for the ultimate halo-effect.
Control colors, modes & special effects directly from your MFD and/or the optional STV2204-i Display with Lumi-Link Command Center.
TIX models have the added benefit of an internal LED array and integrated driver, for the ability to service from inside the hull and to simplify installation.
Suitable for transom, side and bottom mounting.

Specifications
AVAILABLE LED COLORS:

FULL EOS COLOR CHANGE (RGBW)

LUMENS:

23,625

VERIFIED FIXTURE LUMENS (WHITE):

10,500

# OF HIGH POWER LEDS:

104

LED POWER - HICOB ARRAY:

YES

TYPICAL LED LIFE:

50,000+ HOURS

BEAM ANGLE (DEGREES):

110°

DRIVER:

Multi-Channel Internal Driver

SUPPLY VOLTAGE:

12/24 V DC (AC option available)

MAX CURRENT DRAW:

8.8A/4.4A

HOUSING TYPE:

MARINE GRADE ALUMINUM BRONZE

USER CONTROL OPTIONS:

From your MFD and/or optional STV2204-i Display (with Lumi-Link).

LIGHTS SYNCHRONIZED:

Y

COLOR CYCLE w/SPEED ADJUST:

Y

COLOR SWEEP w/SPEED ADJUST:

Y

CUSTOMIZABLE FAVORITES:

Y

FIXED & RANDOM STROBES:

Y

PROGRAMMABLE SCENES:

Y

WI-FI CONTROL (APP):

Y

SOUND-TO-LIGHT:

Y

BRIGHTNESS ADJUST:

Y

AUTO LIGHT DISCOVERY & SETUP:

Y
Lumi-link
The smartest way to control your Lumishore lights! This award-winning and unrivalled system was designed for ease of installation with a single plug-&-play cable configuration. It is the marine industry's only plug-and-play module with pre-installed interfaces and lighting options straight out of the box.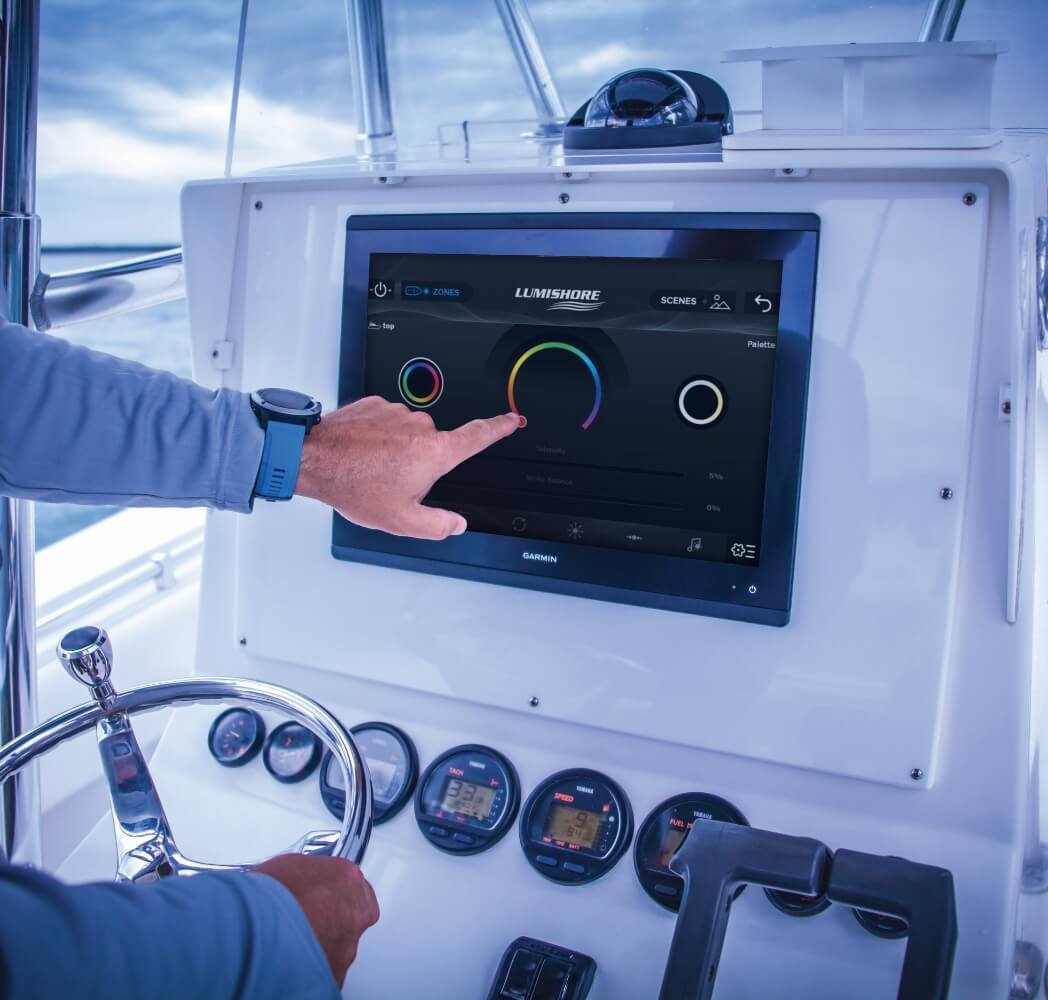 Downloads
The product specification sheet and installation manual can be downloaded below. If you require any further information please get in touch.
What It Comes With
One (1) EOS TIX803 Light with Built-in Driver
Two ( 2) x 1M DMX cables (60-0403)
Controllers & Accessories
Conversion cables and SD cards to compatible MFD's (plug and play connect):
Garmin Conversion Cable (60-0372)
Simrad/B&G Conversion Cable (60-0372)
Furuno SD Card (60-0377)

DMX Extension Cables:

1m (60-0403)
5m (60-0404)
15m (60-0405)

Delrin Isolation Sleeve for Carbon Fibre and Metal Hulls (60-0211)
Close