LUX
Strip Lights (Cut and Seal) SL180
Strip Lights
Key Features
Full Color
CRGBW
LUX
Collection
Lumi-Link
Compatible
Description
Cut your strip lights to the length you require! Lumishore's LUX Cut & Seal Strip Lights are an excellent solution to your mood lighting…
Features
LUX
Collection
Lumi-Link
Compatible
Full Color
CRGBW
Warranty
Product Description
Cut your strip lights to the length you require! Lumishore's LUX Cut & Seal Strip Lights are an excellent solution to your mood lighting needs, while providing incredible flexibility.
Full spectrum - cold white, red, green, blue, warm white and white color temperature tuneable (from 2700k to 6500k) available in a single LED strip.
They come with a connector at both ends. By cutting the strip to length it allows you to create 2 strips out of any standard strip light length* (cut points are spaced at 100mm intervals). A sealing kit is provided, including glue and end caps to seal the cut end of the LED strip, making it completely watertight.
Controlled by a momentary switch, with the option to upgrade to full integration with your compatible MFD and/or Lumishore STV2204-i Display.
Dimmable as standard and powered by a Strip Light Driver.
*Our Cut & Seal Strip Lights are supplied in 3 standard lengths - 1m, 2.5m and 5m
Specifications
Available colors:

Full spectrum CRGBW and white color temperature tuneable in the same strip light

# of LEDS:

180 per meter

Ingress Protection:

IP68

Mechanical installation:

Adhesive backing and screw clips

Control options:

Momentary switch with option to upgrade to full MFD and optional STV2204-i Display connectivity

Driver:

LUX Strip Light Driver

# of LED strips per driver:

Multiple – up to 10m total

UV resistant:

YES

Salt spray tested:

YES
Lumi-link
The smartest way to control your Lumishore lights! This award-winning and unrivalled system was designed for ease of installation with a single plug-&-play cable configuration. It is the marine industry's only plug-and-play module with pre-installed interfaces and lighting options straight out of the box.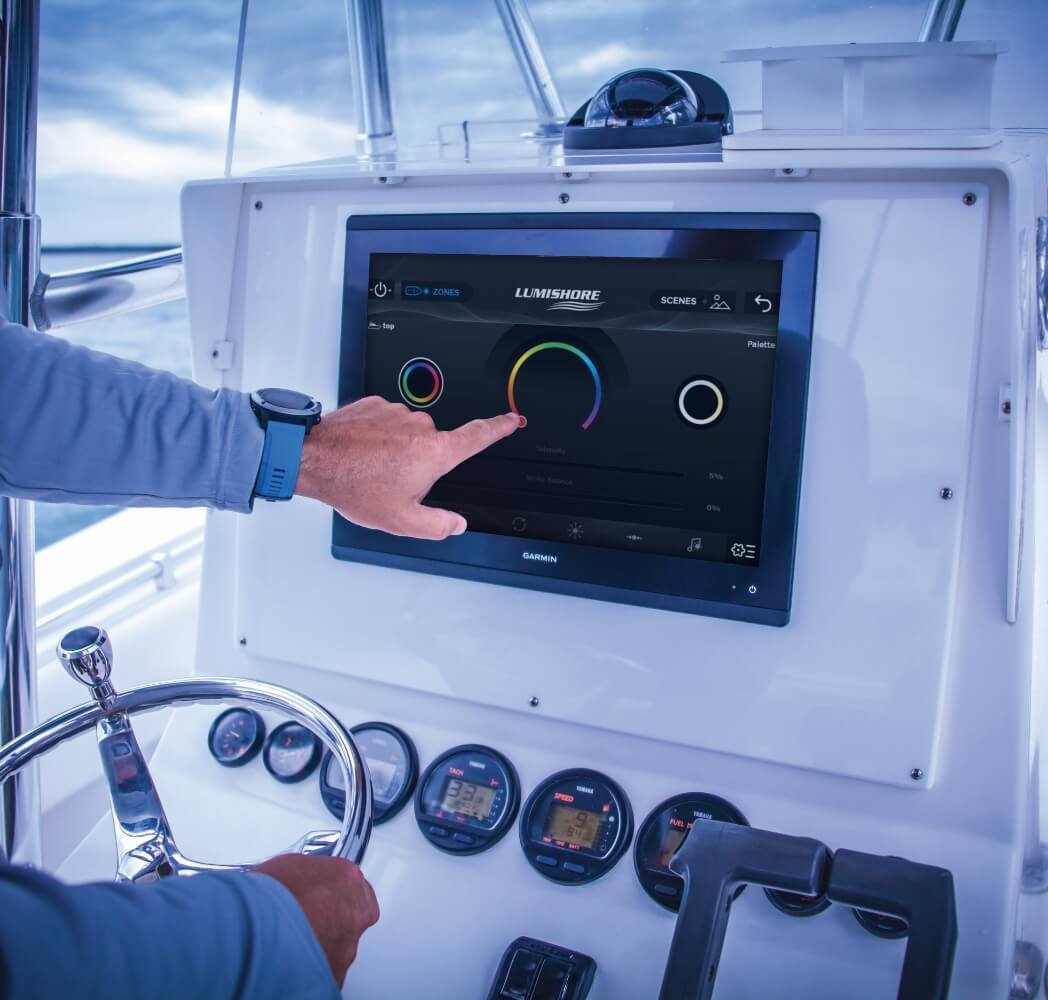 Downloads
The product specification sheet and installation manual can be downloaded below. If you require any further information please get in touch.
What It Comes With
One (1) Lux Cut & Seal Strip Light SL180
Two (2) Connectors - one (1) at both ends
Sealing kit - one (1) tube of silicon adhesive and four (4) end caps
Controllers & Accessories
Conversion cables and SD cards to compatible MFD's (plug and play connect):
Garmin Conversion Cable (60-0372)
Simrad/B&G Conversion Cable (60-0372)
Furuno SD Card (60-0377)